Divi Is Easy To Learn and Easy To Use!
Divi is an all in one solution. Create beautiful and professional WordPress websites in no time. Divi's ease of use enables the novice with no web design experience to build their own self-hosted WordPress website visually. Divi by Elegant Themes is by the most popular premium WordPress theme and page builder in the world, and for good reason!
Why Divi?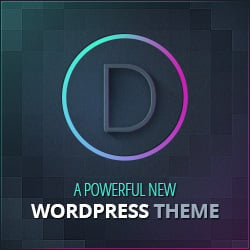 Elegant Themes has built its Divi theme and page builder into an easy-to-use suite of plugins, themes, and templates. The Divi Builder plugin allows you to build layouts and entire pages in just a few clicks. Divi comes with an impressive selection of Divi layouts, which can be customised by adding your own text and images. The multi-purpose tool has loads of modules that enables just about anyone to create any type of website, ranging from blogs to portfolios, magazines, online stores, and even membership/community sites. Divi is a super flexible, super customisable theme. It's straightforward to use, full of features, and has some very clever options for adding content, including adding video, audio, and some very cool click-to-reveal effects. Completed design work can be saved as templates to be reused and may be downloaded. Divi also offers heaps of products that members can download freely at will.
Great Products Members Can Download To Use On Unlimited Websites:
Also
Divi Theme and Page Builder Plugin
Divi Page Builder Plugin
Extra Magazine Theme
Divi Is The Ultimate Web Design Toolkit
The WordPress DIY, the professional web designer or web design agency will find Divi a most valuable asset. Particularly with a Lifetime Access Membership for a one-time fee. Alternatively, Elegant Themes are also offering Yearly Access membership for an annual fee.
SMALL BUSINESS OWNERS: Divi is the ultimate no-coding required theme and builder rolled into one. The visual builder makes it easy for you and your staff to manage your content with ease.
ONLINE STORE OWNERS: Divi has custom woocommerce creation options to tailor your store the way you like using the ultimate visual builder.
WEB DESIGN FREELANCERS: Freelancers can work more efficiently, design visually and use templates and premade layouts to build faster and boost productivity.
WEB AGENCY: Divi can help you create faster by bring your ideas to life visually and improve your team's efficiency and productivity. Save designs to Divi Cloud, copy styles, save preset, find and replace fonts, global colours, workspace settings, paste styles, find and replace colour, edit global header and more!
Membership Benefits
Unlimited downloads and use of all products on unlimited websites
24/7 Lifetime premium customer support that never runs out (unlike most themes)
Lifetime downloads of all Elegant Theme's products
Lifetime of  Updates
Hundreds of World-class Premade Layouts
No code landing pages builder
Improved workflow – build faster, save time and money!
Advanced design technology that simplifies web design
Responsive editing to make mobile friendly sites
Design options galore
Drag and drop builder enables visual building with ease
Inline text editing
Undo and redo revisions
Save design templates to reuse, download them or upload them
Modules for everything, call to actions, forms, sliders, blogs, galleries, testimonials and more!.
Created with Divi
View The Compass Counsellor Website – https://compasscounsellor.com.au
The Simplicity Of Designing With Divi
Adding page elements with the use of Divi modules is easy to help you make your site look exactly the way you want. The WordPress DIY may find adding features and functionality visually, a great advantage. No technical knowledge is required and the platform is versatile enough to help you create almost any website. There's a module for just about anything. Gain access to over 40 elements, from testimonials, blogs, video sliders, pricing tables, and more. The Woo Modules help you add Woocommerce features and functionality to web pages using the Divi Visual Builder.
E.g. With the visual builder open to design pages, modules can be added to add features and functionality to any page.
Build Visually With Ease
Divi has elevated WordPress to a whole new level with its drag and drop visual builder that makes building a WordPress site so much more efficient. The superior visual builder replaces the old WordPress post editor allowing for easy content management. For designers or anyone who wants to build their own website, Divi makes it so much fun and faster to create a website with their WYSIWYG editor.
What You See Is What You Get 
Divi gives the designer total control over the design aspect using an intuitive visual platform to simplify WordPress design even more! Customise design work any way you like.
SEE DIVI DESIGN WORK IN ACTION!
Choose Hundreds of Premade Layouts
Members can access hundreds of premium premade layouts to use on unlimited websites. Premade layouts are fully customisable which means you can add your own content such as images, fonts, and branding colours. Change the layout design to make pages stand out the way you like. There's no limit to what you can create with Divi.  To see premade layouts on the Elegant Themes website, use the link above, Go to DIVI>LAYOUTS LIBRARY
Divi Documentation and Support
Divi is very well documented, has loads of instructional videos available on YouTube and there are a plethora of incredibly helpful articles on the Elegant Themes website.  Their 24/7 customer support is a great benefit with the use of a chat communication that sends a transcript of the chat and their responses to your inbox.
The Divi Market Place
Buy and sell Divi child themes, extensions (plugins and modules) and layouts in the Divi Market place.   By Sandra Ciminelli WordPress Web Designer/Developer ACT Websites Note: ACT Websites loves and uses the Divi Theme.  As an affiliate, I stand to make a commission based on sales resulting from the use of links on this page or site. I hope you will love the Divi Theme as much as I do. See my portfolio for all websites built with the Divi Theme.
Test Divi For Free For 30 Days!
If you're not entirely convinced you can take Divi for a test drive and see for yourself! Test Divi For Free For 30 Days!  Sandra Ciminelli WordPress Freelance Web/Designer Developer Disclosure Statement – I stand to gain a commission from all sales resulting from links used on this page and throughout my website. However, I only endorse products that I truly believe in for my clients to reap the benefits with the enormous value.